Brahmaputra Fables Presents
We showcase stories of our artisans and weavers through Handloom and Handicraft products of Northeast India.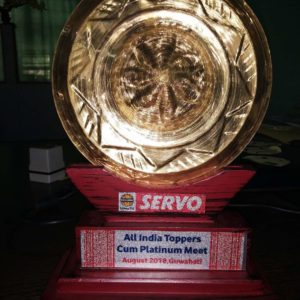 Celebrating the best ones at a PSU.
 For the best vendors event in Guwahati, one PSU visited Brahmaputra Fables for gifts for the vendors attending it. Brass Metal Wall Japi from Sarthebari, Assam, that's traditionally used as a form of respect, seemed to them the perfect gift to celebrate their vendors. They customized the Japi mounted along a wooden base with the event name engraved on it. It proved to be a gift that resonated with every vendors who attended the event.
An Eco friendly choice for 'Heroes of the Wild Frontiers' by WCS
WCS was running a campaign for the forest guards to create awareness about forest laws, And this time they wanted to make it unique by gifting them the necessary guidelines. So, they visited Fablss for a eco friendly options that would come handy for forest guards to carry all the documents even while working — saving wildlife. They selected a jute folder handcrafted by our Artisans and customized it with the logo of WCS. hence a eco friendly gift for a group of people who protects the environment & wildlife.
A taste of culture to the visiting guests by Assam Start-up the nest.
Guests and Dignitaries were visiting Assam Startup nest for a conference and to connect with the startups. and our incubator wanted to gift them a token of gratitude curated from the products of incubatee startups. And we provided them the choice of Vibrant and colorful scarfs from boro tribe – Aronai. A gift which represented Brahmaputra Fables, A gift which was magically weaved by weavers of Northeast, A gift which showcases the rich culture of northeast India – the vision of Fables. 
Adding a traditional touch at Dibrugarh University
Department of Chemistry, Dibrugarh University organised a National level workshop, and they reached out to us for mementos which represents Assam to gift their visiting dignitaries and professors, so that they cherish Assam once they leave from the workshop. And they selected a wooden memento curved with a one horned rhino, Dhol, Pepa and Japi representing – Awesome Assam.