Sale!
Charcoal Peppermint Soap
Charcoal Peppermint
Peppermint essential oil acts as an antiseptic for the skin/scalp.  It nourishes dull skin and boosts the texture of oily skin. It is used to relieve skin irritation and itchiness; also helps to reduce skin redness. It is used for dermatitis, acne, ringworm, scabies and relieves sunburn and inflammation of the skin with its cooling action. It contains activated charcoal for exfoliation. This soap is beneficial for people who have medium to oily skin.

Normal to Oily Skin
Weight: 70g.
Dimensions: Height: 6cm, Width: 5cm, Breadth: 2.5cm
Out of stock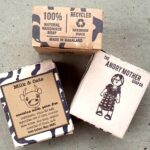 Charcoal Peppermint Soap handcrafted by the artisans of Northeast, India.
Brand
The Angry Mother Soap Co.
All natural handmade bath and body product which is manufactured in Nagaland by Akitoli. If you have been longing for Forest Essentials and Lush products Angry Mother Soap is the one and perhaps you should thank her for handcrafting such wonderful eco-conscious and skin-friendly soaps filled with the goodness of nature.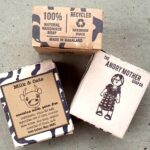 Only logged in customers who have purchased this product may leave a review.