Upcycled key ring 2
₹175.00
Product Details
A keyring with colorful details. We have used the small cuts of the handwoven fabrics,which otherwise would have been wasted. Added some vibrant wood beads,ghungroo and pompoms.
Availability: 1 in stock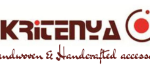 Brand
Kritenya
Buy Upcycled accesories from Kritenya, All products are fairly produced and are exclusively handcrafted.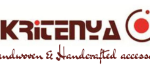 Only logged in customers who have purchased this product may leave a review.