Upcycled Pouch (Maroon)
₹250.00
Product Details
This pouch is made of the leftover cut pieces of our handwoven fabrics. The strap is a regular good quality nylon strap .It is lined fully and has canvas as interlining for the duarabilty of the pouch. It can carry all your essentials like passport,keys,cards or mobile.
These fabrics are expensive as they require lot of hard work to weave.And making sure we don't waste even a single piece,we started the upcyled range.The strap is of nylon.We collected these strap cuts from workshops which make nylon bags,and these cut pieces they don't use and goes in industrial waste.It in turns effect the enviroment.So as long as we use it,we keep our enviroment safe to some extent.
General
Material

Cotton

Color

Maroon

Size

15 cms x 20 cms

care

Hand wash
Availability: 2 in stock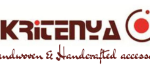 Brand
Only logged in customers who have purchased this product may leave a review.